Plane banners and 8 other things we hated about the Premier League season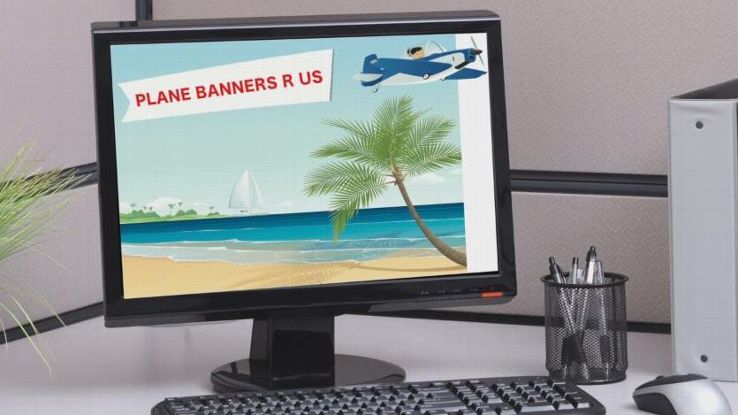 The Exploading Heads gain exclusive access to the Plane Banners 'R' Us call centre.
There's been plenty of talking points from an eventful season but we didn't like everything we saw…
Plane banners
Ok, we understand that fans get frustrated by their managers. We understand that they want to showcase that frustration for others to see. But what we don't get is why they choose to spend almost £1,000 on a pointlessly tiny banner flying behind a plane for all of 10 seconds.
And, as if that wasn't bad enough, now we have no idea who is actually behind the "protest." Is a group of fans? Is it one very angry man? Or is it a betting company looking for a bit of cheap advertising?
Time to make the area over football stadiums a "no fly zone" please.
Jose vs. Pep
Before the start of the season, we were expecting the most entertaining battle of wits imaginable. Pep Guardiola vs. Jose Mourinho. They hate each other. They are now in charge of two MASSIVE rivals in Manchester. The possibilities were endless. Until, of course, neither manager could maintain a consistent run of form and fell out of title contention after only about six months, rendering their rivalry pretty meaningless.
In truth, it was always going to take them time to acclimatise. Pep in a new Premier League environment; Jose trying to wedge himself into a Sir Alex Ferguson shaped hole at arguably the world's biggest club. But they could have at least tried to make the rivalry interesting instead of focusing on fixtures (Mou) and questioning why English football is so special (Pep). One look at their 0-0 draw in April reveals that this one has a long way to go before we can actually get excited.
Mourinho's fixture moaning
What is it that this man doesn't like about playing football? Aside from his dour demeanour in news conferences, on the side of the pitch, and everywhere else you see him, you would assume that he actually enjoys his job and wants to be successful?
There's one really simple equation to understanding football. More games = more chances to win trophies. If your team reaches the finals of the EFL Cup and Europa League, you will have to play more games. But you may well come away with some lovely shiny silverware to show for it.
Honestly, you never heard Ferguson whinging so much about having to play so many games on the way to the Treble in 1999.
Dele Alli is one of those responsible for the crazy handshake trend.
Elaborate handshakes
This might be because I'm getting older and don't really understand half the things that the kids are doing these days. But what happened to celebrating a goal normally?
Ok, back in the 1950s you couldn't really tell if a player had scored based on their inability to move their arms, and even into the Premier League era the likes of Alan Shearer (hold one arm up and run about a bit) or Eric Cantona (just stand still and stare) weren't over-exuberant.
But now, thanks mainly to Tottenham's Dele Alli, you need a small army of code-breakers to try and figure out what on earth they are saying to each other in handshake form. It's hard enough to be a Premier League footballer, you don't need the distraction of remembering all that guff too.
Manager cam
Part of the hype machine we touched on earlier surrounds the managers on the touchline. Fine, if there's a bust-up we want to see it. But most the time when the TV cameras cut away to Arsene Wenger or Jurgen Klopp around 100 times a game, they are chewing some gum, waving their arms about a bit, or just getting on with their jobs. Yawn.
Jumping on the bandwagon of the 3-4-3
Big fan of the 3-4-3 formation are you? Love the way those attacking full-backs own the flanks and the defenders can outnumber the opposition strikers? Well, it's been around for ages. Just because Antonio Conte has come over to England suddenly made it popular, doesn't mean that everyone should try it.
Ok, Arsenal, Man City, Liverpool and Tottenham have found moderate success with it but without the right type of players they are going to get found out next season. And if West Brom try it, we can all just go home.
Fans… please… just watch the game.
Life through a lens
Football matches can be a life changing experience. But if you spend the whole time watching the game through your phone's camera, you will miss out. At Euro 2016 it was notable how many fans were trying to record Cristiano Ronaldo's performances for posterity rather than using their eyes to marvel at his brilliance.
The Premier League is not different and every time a player trots over to take a corner, the scenes in the stands are just so depressing. Perhaps we should all just accept that the future of football is online, and be done with it.
The next big thing
How old do you have to be in order to be considered a success? And by "success" we mean: having a young player compared to you. Dele Alli, 20, is already the next (take your pick) Steven Gerrard/Frank Lampard/Paul Scholes. No pressure then!
Look over at Brazil for the best example of a terrible trend. Vinicius Junior (16) is the next Neymar (25), who was once the next Robinho (33), who was also the next Ronaldinho (37), who was the next Rivaldo (45) — who, by the way, has only recently retired.
Players trying a spectacular volley after a corner gets cleared
Just stop it. It never goes in.
Jon is a senior editor of ESPN FC, based in London.
The Exploading Heads gain exclusive access to the Plane Banners 'R' Us call centre.
There's been plenty of talking points from an eventful season but we didn't like everything we saw…
Plane banners
Ok, we understand that fans get frustrated by their managers. We understand that they want to showcase that frustration for others to see. But what we don't get is why they choose to spend almost £1,000 on a pointlessly tiny banner flying behind a plane for all of 10 seconds.
And, as if that wasn't bad enough, now we have no idea who is actually behind the "protest." Is a group…
Source: http://www.espnfc.com/blog/espn-fc-united-blog/68/post/3128176/plane-banners-and-8-other-things-we-hated-about-the-premier-league-season